Frequently Asked Questions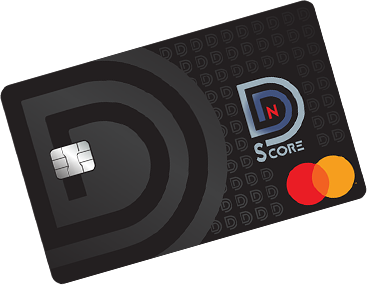 DND Finance is a multi-national finance company helping thousands of underserved corporate and consumer finance arenas in both the UK and Canada for over 20 years. As a division of D&D Leasing UK, the company was founded by Bill Dost, offering business financing solutions in the loan, vehicle, equipment finance and leasing markets in the UK. DND Finance has recently launched its Score Mastercard® in the UK, providing a credit building solution to both consumers and companies looking to establish a positive trade history.
The Score Mastercard is a secured credit card that is designed to help you build or rebuild your credit. It works just like a regular credit card. But similar to a prepaid card, it requires a pre-funded deposit that acts as security equal to your approved credit limit. For more information, You can also check out this video here
.
The Score Mastercard® is a perfect solution if you:
Have ever been declined for a credit application
Are a Newcomer to the UK looking to establish credit in the country
Have completed a past bankruptcy or IVA (Individual Voluntary Arrangement), and are looking to rebuild your credit
A business looking to establish your company's credit history while managing your expenses
A Student building credit for the first time
Want to rebuild your credit but don't want to get into unaffordable consumer debt
Want the highest chance of getting approved for a credit card, regardless of your past credit history

Minimum eligibility requirements require that applicants must be UK residents aged 18 or over, with a valid UK bank account, subject to successful identity and residency verification. DND does not have a minimum credit score requirement for the Score Mastercard, which makes it unique to the UK. See www.scorebydnd.com/card-agreements for full Terms and Conditions.
Use the Score Mastercard® to make everyday purchases that you can afford. By managing your card and repaying the minimum payment required each month, your repayment history is reflected to all the major UK credit agencies. Providing you make your minimum payments on time, the history will show future lenders that you are a responsible borrower.
Your Score Mastercard payment history is reported to the credit reference agencies in the UK every month. As long as you use your card wisely and repay it on time this will reflect positively on your credit profile.
DND does not have a minimum credit score requirement for the Score Mastercard, which makes it unique to the UK.
We do require that applicants have a UK bank account and are over the age of 18.
DND recommends that if you are a business owner you always apply for the business card. Here is the link to get started with an application: www.scorebydnd.com/business-card.
Yes, you can use your card anywhere that Mastercard® credit cards are accepted, however a 2.99% foreign exchange fee will apply.
Yes Mastercard is accepted at most online shopping sites.
You may use the Score Mastercard at any Merchant that accepts Mastercard or displays the Mastercard® logo. You can't use your card to obtain cashback or foreign currency, gambling; or for obtaining illegal goods or services.
Shariah compliant means simply that a product or service is complying with Islamic Law. That means for a finance product like a credit card they have to comply with the Shariah rules as mentioned by AAOIFI (2017), Shariah Standard No. (2): Debit Card, Charge Card and Credit Card, and other relevant principles and rulings.
Score Mastercard has been certified and approved by Shariah Experts, who reviewed all aspects of the Score Mastercard by DND Finance. This included reviewing its fee-based structure, and understanding how APR applies to the Score Mastercard. All credit cards will have an APR as required by UK regulations. While the Score Mastercard has an APR, it does not charge interest on purchases.
Sign Up & Application Process
Just start by clicking the Apply Now button on our website, and you'll be directed to provide some basic contact information followed by a link to access our secure application dashboard. After completing our simple application (typically about 5 minutes) and receiving an approval, you'll be directed to download our app and sign in to complete the onboarding process.
You can login to your Score dashboard here and enter your email and password, or login through the mobile app (located in Google Android and Apple stores). Upon doing so you will be directed to your Score dashboard and informed of your application status. Your application may be: referred, requiring you to verify your identity, declined, or approved in which case you will be instructed to pre-fund your Score account and order your card.
There is no way to edit the name on an existing application. Please submit a new application using your correct name.
We will require a government issued photo ID in order to verify your identity. This includes a Driver's License, Passport or Resident Permit.
Please attempt to try the identity verification process again. If the problem persists, we are here to help. Please contact the Score Customer Service team at 0800 170 0213 and +44 203 150 4634 24 hours a day 7 days a week or via chat in your dashboard or mobile app.
Log in to Score MasterCard dashboard here and enter your email address and the password you used to register upon application. If you have forgotten your password, you can select the Forgotten Passwordlink displayed below.
Press Next and you will be taken to your personal Score MasterCard 'Dashboard'
You may be presented with a welcome pop up, you can Dismiss this.
Below the header Dashboard you will be able to locate your personal account details to enable you to send the required deposit and one time Credit Access Fee directly to your Score account. Click on Share Account Detail
A pop up with the following information: Account Holder, Account number, Sort Code, IBAN and SWIFT/BIC should appear.
Should you want to save these items elsewhere for future reference you can click Copy to Clipboard and paste them to a location of your choosing for later.
Next you will need to head to either your online banking app or log in from your computer and follow the steps for funds transfer.
Your deposit should be equal to that of your chosen credit limit plus a 10% one-time Credit Access fee. For example: If your chosen credit limit is £500, your deposit will be £550 (£500 deposit + £50 one-time Credit Access Fee)
When the transfer of funds is successful and confirmed on screen, the money will appear in your Score MasterCard dashboard under Remaining Credit within 4 hours.
Once completed, don't forget to order your physical Score MasterCard from the dashboard under the header Physical Card. Your card may take up to 10 working days to arrive.
Now you are ready to go, welcome to the Score Mastercard family.
Once you are approved for the Score Mastercard and have pre-funded your approved credit limit and one-time Credit Access Fee to your Score account, you must login and order your card from within your dashboard. This process takes less than a minute.
You will receive the card in approximately 10-13 working days after you order your card. Please note that this time frame also applies to reissues for lost, stolen or expired cards. If you haven't received your card within 10-13 working days, please contact Customer Service at 0800 170 0213 or +44 203 150 4634.
There could be many reasons that your application was rejected. DND has a set criteria for the approval of its credit card and we are required to adhere to these by the Financial Conduct Authority. Based on the information provided in your application and the details from the credit reference agencies, you have not met DND's minimum criteria for the Score Mastercard. We recommend you obtain a copy of your credit file with a credit agency and check the information held within it before reapplying. If you would like to apply again or if your circumstances have changed, we would recommend waiting at least 3 months before submitting another application.
There are both up-front fees to activate your card, as well as ongoing monthly costs to maintain access to your card as a credit building solution. Whether you are a personal cardholder, or a business, you can see a comprehensive list of all fees here.
APR is the cost of borrowing money over a year on a credit card or loan. The APR includes the interest rate and other charges such as an annual fee or arrangement fee.
Lenders are required by UK regulations to display a representative APR. A representative example will be calculated using an assumed credit limit of £1,200 and it allows you to compare between lenders and products.
APR is calculated using a specific set of rules as set out by the Financial Conduct Authority. This states that all credit card companies must assume that a customer is taking out a £1,200 credit card. At that point all fees, dues and subscription costs are included in the APR calculation. In the case of the Score Mastercard, this means that we include the one time credit access fee as it applies to £1,200 in credit of £120 gbp plus the monthly subscription of £19.99 a month and the interest rate of 0.00%. Taken together this calculates to 29.99% for the personal card. What this means is that the second year the card becomes less expensive because there is no one time credit access fee. Unlike many other card companies who charge interest, that interest rate is charged every year.
The Score Mastercard by DND does not charge interest on purchases or outstanding balances on the Score Mastercard. Ever. This is our promise to you. However, for personal cards, we do charge a one-time credit access fee of 10%, which is calculated on your desired credit limit. This means that if you choose a £1,200 GBP credit limit, your required transfer will be £1,200 (for your credit limit) + (£120) for DND's one-time Credit Access Fee, for a total of £1,320.
The Score Mastercard does not charge purchase interest or late interest of any kind. The 10% fee is a one-time Credit Access Fee to cover the costs of setting up your Score account. To stay part of the Score community, we charge a monthly subscription fee.
The APR calculation includes all fees and interest which make up the cost of borrowing over a year. In the case of the Score Mastercard, there is NO INTEREST charged. Ever. However, there are fees, therefore the APR is above 0.00%. The Score Mastercard is one of the few cards that is less expensive the second year, because you are only paying the monthly subscription fee in that year.
Service & Using the Score Mastercard
Our Score Customer Service Team is on hand to answer your questions 24 hours a day 7 days a week using the following telephone numbers: 0800 170 0213 and +44 203 150 4634 24. If you have a question that we cannot answer right away, you can expect a Score Customer Service team member to get back to you within 2 business days. Alternatively, you can chat with us in your dashboard or mobile app.
You must notify us immediately if your card is lost or stolen. Log in to your Score App or web dashboard and select LOCK YOUR CARD, then call 0800 170 0213 or +44 203 150 4634.
To download the app please visit the app store with Apple or Google app stores. You can also search for the app by entering Score Card by DND into the search bar. The app is free to download onto your mobile device (however data charges may apply from your cell carrier).
Log in to your Score mobile app or secure Score dashboard. Simply choose SETTINGS and CHANGE PASSWORD and follow the instructions.
If you have forgotten your password you can reset this via the settings/security settings/change password on the welcome menu in the Score app.
Yes, you can use device biometrics to access the Score app. You should be prompted to set this up when you first load the mobile app. Alternatively, you can setup this security feature later in the settings of your mobile device under the security option.
At this current time, the Score Mastercard is not compatible with Apple or Google Android Payment systems.
Your Score Mastercard® has contactless capabilities for purchases of £100 and under, allowing you to pay for items easily and quickly by tapping your card onto a pay terminal.
Yes, your Personal Score Mastercard can be used to withdraw cash at an ATM or retail location. The Business Score Mastercard is ineligible for cash withdrawals.
Please call 0800 170 0213 or +44 203 150 4634 and one of our Score Customer Service team members would be pleased to process your credit limit increase request. Please note that upon approval, a Credit Access fee relating to the increased credit limit portion will apply.
The purchase will be rejected if you have attempted to charge a purchase greater than the available limit on your credit card.
You can use your Score Mastercard like every other card in the marketplace. Contactless (tap) functionality exists as does Chip-and-pin, while swiping your card for payment can also be used where required by merchants.
These are your usual login details that you use to access your Score dashboard through the website. If you have forgotten your password, please select the forgotten password link to reset this. To confirm your username please click the FORGOTTEN USERNAME link or contact customer service at 0800 170 0213 or +44 203 150 4634.
If you cannot login to your dashboard, please contact the Score Customer Service team by calling 0800 170 0213 or +44 203 150 4634 24 hours a day 7 days a week.
Complaints regarding any element of the service provided by us should be sent to our Score Customer Service team at Support@scorebydnd.com. All complaints will be subject to our complaint's procedure. We will provide you with a copy of our complaint's procedure upon request and, if we receive a complaint from you, a copy of our complaint's procedure will automatically be sent to you. If we fail to resolve your complaint to your satisfaction you may refer your complaint to the Financial Ombudsman Service.
Your pre-funded deposit will be refunded to you once the statement period has completed, less any outstanding fees or balances owing. Please call 0800 170 0213 or +44 203 150 4634 and one of our Score Customer Service team members would be pleased to process your account closing and answer any questions.
Our founder had to build his credit, just like you!
Score is 25 years in the making.
Kamran Bill Dost, our founder, faced the challenge of having to build his credit almost 25 years ago. His frustration with the experience drove him to develop the Score Mastercard.
The card he wished he had all those years ago to help him build his credit.
Let our Score Mastercard by DND help you attain financial freedom with an improved credit score!
Rev. Dr. K. Bill Dost
Score Card Founder